Wal-Mart Sees Small Stores in Big Cities Wal-Mart Stores Inc. is planning to open dozens of small stores in the nation's cities, in an effort to push back against the dollar chains and other competitors nibbling at its customers.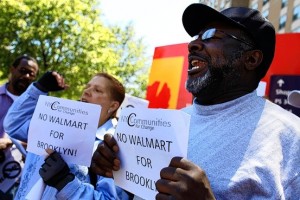 The prospect of Wal-Mart stores dotting America's biggest cities would change the urban landscape and the profile of the world's largest retailer, known for its blocky suburban edifices stocked with low-cost goods. The new stores, roughly a quarter to a third the size of a supercenter, largely will sell groceries.
Bill Simon, head of Wal-Mart's U.S. stores business, said Wal-Mart envisions opening in the next few years 30,000- to 60,000-square-foot Neighborhood Market groceries and new, smaller outlets modeled on the bodegas it operates in Latin America. Its supercenters average 185,000 square feet.
Mr. Simon said he believes there is room for "hundreds" of small Wal-Mart stores in the U.S., offering food and consumer staples. The retailer first will test their urban appeal with 30 to 40 stores over the next few years before a full-scale launch.